At the end of last year, I was invited to speak at an event called "A Practical Guide for Financial Independence" organized by Samia and Unwind the Grind.
Together with my friends and team mates Steve and Zach, as well as representatives from a robo-advisory firm, we explained the basics behind investing for financial independence.
Following a panel discussion with Samia where she asked about my story and my journey to FI, Steve and I had just half an hour to present on the Simple path to Financial Independence. Because of the time constraints, we had to distill our knowledge and present only the key concepts and information. So this is a great way to learn about the basics of Financial Independence in just 30 minutes! Here is the video.
In summary, here are the key concepts you need to understand to be able to start on your journey to Financial Independence:
1. If Passive (non-work) Income > Living Expenses, then you're FI
That's the basic definition of FI. Once you don't need to work to cover your expenses, then you're done. It's that simple. To reach FI faster, make sure you work on both sides of the equation: increase your income and reduce your expenses.
2. There are many ways of generating passive income and reaching FI
Generating your initial (non-passive) income can be done via entrepreneurship or regular employment. Both routes work well. Entrepreneurship is probably more risky and can be more rewarding in the long term To grow your wealth and generate passive income, you can choose either the stock market route or the passively managed real estate route. Or even both. And you can combine all these as you like.
3. Start early and to make compound interest and returns work for you
Investing USD 10,000 per year using a balanced Bogleheads portfolio of low cost index funds, you can expect a 7% average annula return over the long term. Over 40 years that means that your investment principal will grow 5 times, turning the USD 400,000 invested into more than USD 2 million.
4. Make sure to avoid compounding fees!
In the same example, a 4% annual management fee on your investments, (sum of the fees charged by the advisers, platform, product providers and fund managers) can literally cripple your portfolio and take away 78% of your returns. Your portfolio in this case barely keep up with inflation (assuming there are no other mistakes on the way). This differences in return represents sometimes decades worth of hard work and savings. This is why it is essential to make sure you keep costs low (Following the Bogleheads philosophy, the total annual fee can go as low as <0.1% with Vanguard in the US and <0.4% using the DIY route outside of the US)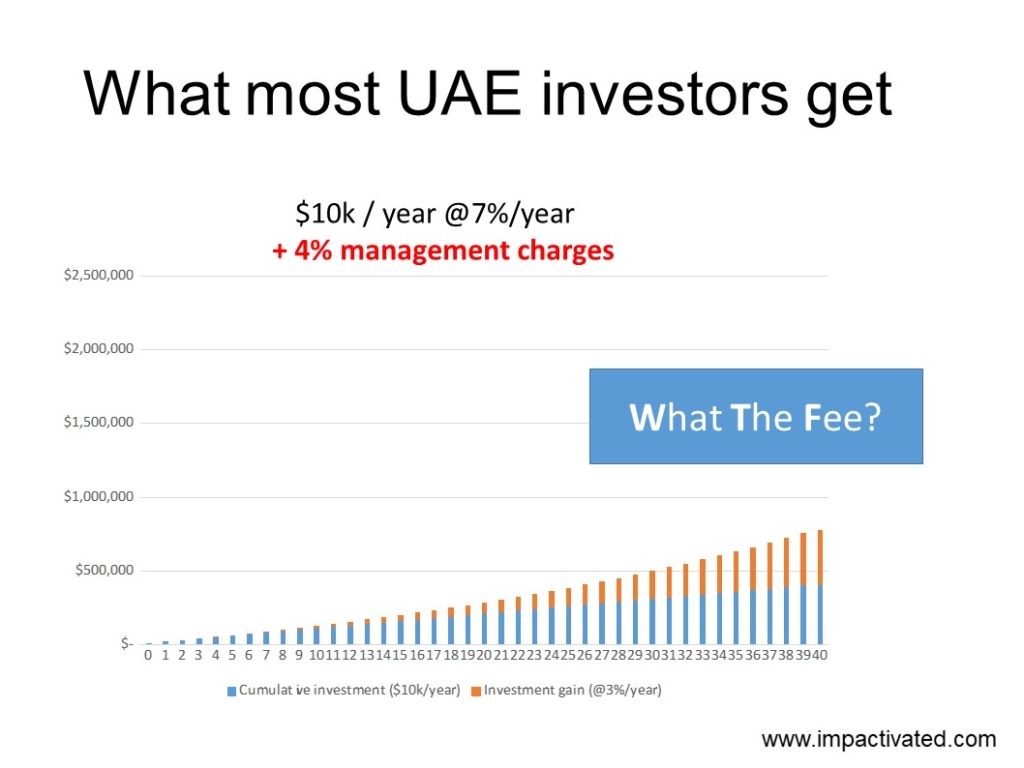 The Math of Financial Independence is simple: Portfolio needed for FI = 25 x Expected annual expenses
This is called the 4% rule of thumb and it can be used to estimate the size of the stock market portfolio required to sustain a certain level of spending. It is derived from the Trinity Study conducted in the US in the 1990's. Based on more recent research and analysis, it is wise however to be more conservative and use 30 x Expected annual expenses. This is studied and explained very well on www.EarlyRetirementNow.com. Once your stock market investment reaches that size, you're FI.
I explained this topic in a lot more details at the SimplyFI.org Dubai Meetup #26: How to Plan for Financial Independence and Early Retirement.
Pursuing FI is a long journey, which empowers you to take control of your life and have a positive impact.
Pursuing FI is a long journey, during which you will learn and grow, build safety, become more confident until you build yourself an FI armor. At each step of the way, you strengthen your position so that you can better take control of your life and shape your destiny. That's the power of FI. Then you can choose what to use that power for:
#FIforSelf: Explore happiness, take care of yourself and your loved ones
#FIforImpact: Explore fulfillment, be part of something bigger and help make the world a better place
Here are a few more pictures from the event.
For more information, please visit the event page of Unwind The Grind. Special thanks to Samia for inviting us and for the great organization!